Arina Tanemura

Person information
Full name
Name in Japanese
種村 有菜
Romaji translation
Tanemura Arina
Gender
Born
March 12, 1978
Ichinomiya, Aichi, Japan
Death
Occupation(s)
Manga artist
Voice of
Portrayer of
[Source]
Arina Tanemura (種村 有菜, Tanemura Arina, born March 12, 1978 in Ichinomiya, Aichi, Japan) is a shojo manga artist. She is the creator of several successful series, such as Phantom Thief Jeanne, Full Moon o Sagashite, and The Gentlemen's Alliance Cross. In 1996, Tanemura debuted in Ribon Original with the short story, "The Style of the Second Love".
Tanemura was previously an exclusive artist for the manga magazine Ribon, publishing series such as I.O.N, Time Stranger Kyoko, Mistress Fortune, and Sakura Hime: The Legend of Princess Sakura in the magazine. In 2011, she ended her contract with Ribon, becoming a freelance artist. She released her first non-Ribon manga titled Fudanjuku Monogatari in Margaret the same year.[1]
She ended her ninth series, Neko to Watashi no Kinyobi, also in Margaret, on November 20, 2015.[2] Tanemura is currently working on Idol Dreams in Melody,[3] Shunkan Lyle with Yui Kikuta in Monthly Comic Zero-Sum,[4] and Akuma ni Chic×Hack in Margaret.[5] She will publish a new series in LaLaDX titled Idolish 7 MEZZO: Murasaki Ao no Hekireki, a spin-off of Idolish 7 TRIGGER -before The Radiant Glory-, which she ended in August 2016.[6]
Biography
Edit
Early and personal life
Edit
Tanemura was born on March 12, 1978 in Ichinomiya in the Aichi Prefecture of Japan. She has one older sister, one younger, and one brother. Tanemura also has two cats named Riku and Kai.[7]
Tanemura made her debut in 1996 with the one-shot, "The Style of the Second Love" in Ribon Original. Several more one-shots followed including, "Rainy Afternoons Are for Romantic Heroines", "Short-Tempered Melancholic", and "This Love is Non-Fiction", which were collected in her short story collection, Short-Tempered Melancholic. In 1997, Tanemura began her first serial, I.O.N.
She began her magical girl manga,
Kamikaze Kaito Jeanne
in February 1998. The manga concluded in July 2000 with a total of seven volumes. It was also adapted into a forty-four episode
anime
in 1999. Tanemura's next series,
Time Stranger Kyoko
started shortly after the end of
Kamikaze Kaito Jeanne
in September 2000.
Tanemura took a short break from serials, publishing the one-shot, "Gin-yu Meika" in the November issue of Ribon. Full Moon o Sagashite started in January 2002, which concluded in June 2004. The manga was also adapted into an anime in 2002, and a short OVA.
After Full Moon, Tanemura's school drama, The Gentlemen's Alliance Cross began serialization in August 2004 issue of Ribon. The series concluded with eleven volumes in the same issue of Mistress Fortune 's debut. Mistress Fortune concluded after three chapters in September 2008.
Sakura Hime: The Legend of Princess Sakura launched in December 2008 in Ribon. Tanemura announced in November 2011 that Sakura Hime Kaden will be her last series in Ribon[8] and ended the series in January 2013. During that time Tanemura penned Fudanjuku Monogatari for the magazine, Margaret.
She is currently writing Neko to Watashi no Kinyoubi for Margaret since February 2013. Her latest series, Idol Dreams premiered in Melody in April 2013.
Assistants
Edit
Main article: Arina Tanemura's assistants
Many of her assistants have become professionals, including Ai Minase, Naoto Kohaku, Yui Kikuta, Kozue Takeuchi, and Kayoru.[7] She often mentions her assistants in the strip, "Penchi de Shakin", which runs in the side columns of her manga.
Published works
Edit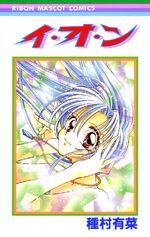 Series
Short stories
Artbooks
Collaborations
Edit
References
Edit
External links
Edit
Ad blocker interference detected!
Wikia is a free-to-use site that makes money from advertising. We have a modified experience for viewers using ad blockers

Wikia is not accessible if you've made further modifications. Remove the custom ad blocker rule(s) and the page will load as expected.