Welcome to Arina Tanemura Wiki.
The Wiki that anyone can edit.
Please look over our policies before editing.
We are currently editing over 207 articles, and 396 files since October 3, 2009.
Welcome to Arina Tanemura Wiki
About Arina Tanemura
Arina Tanemura (種村 有菜 Tanemura Arina, born on March 12, 1978) is a popular Japanese manga artist famous for her series Full Moon o Sagashite and Kamikaze Kaito Jeanne as well as many others. Tanemura was previously employed by Shueisha, but as of November 2011 she has become a freelance manga artist. Her debut work was The Style of the Second Love that was later published into Short-Tempered Melancholic, a anthology of Tanemura's early stories. Tanemura's early defining works include I.O.N, Kamikaze Kaito Jeanne, and Time Stranger Kyoko. Her recent series are Full Moon o Sagashite, The Gentlemen's Alliance Cross, Mistress Fortune, Sakura Hime: The Legend of Princess Sakura, and Fudanjuku Monogatari. Both Full Moon and Jeanne have been adapted into anime TV series, and Time Stranger Kyoko was made into a twelve-minute OVA. Artbooks for Jeanne, Full Moon, Gentlemen's Alliance Cross, and Sakura Hime have been published.
Tanemura is currently working on Neko to Watashi no Kinyoubi and 31 Ai Dream. Read more...
Works
How to help
All pages can be edited and you are welcome to join us and contribute to this wiki. Everyone is free to create a new page or edit an existing one. If you have any questions about the wiki or helping out, you can ask one of Arina Tanemura Wiki's administrators.
If you are new to wikis, you may want to read the help page.
A list of all help pages can be found in .
If you want to help but you're not sure where to start, try improving the various articles by expanding them.
Another helpful activity would be to check the list of wanted pages for frequently linked-to articles that don't exist yet.
You can find a list of useful templates on .
If you want to experiment with editing a wiki, please do it in a sandbox, not in articles.
Featured work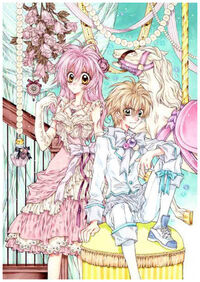 Neko to Watashi no Kinyoubi (猫と私の金曜日, lit. "Friday and My Cat") is Arina Tanemura's current ongoing work. It began serialization in Margaret on February 5, 2013.
The story centers around sixteen-year-old, Ai Tachibana, who has a crush on Mia Serizawa. He seems to share the same feelings, and Ai plans to express herself to him. However, someone is trying to stop her from telling. Could her cousin, Nekota Honjo be the source of all her troubles? Read more...
Featured character
Mitsuki Koyama (神山 満月 Kouyama Mitsuki) is the main character of Full Moon o Sagashite. She is a 12-year-old aspiring singer with a malignant tumor restricting her vocal cords. Mitsuki meets two shinigami, who inform her that she only has a year to live. However, with the help of Takuto Kira, Mitsuki is able to transform into 16-year-old, Fullmoon (フルムーン Furumūn).
Mitsuki Koyama is voiced by Myco in the anime. Read more...
Featured poll
Who's your favorite heroine?
Past Polls