Fudanjuku Monogatari (風男塾物語, Fudanjuku Monogatari "Fudanjuku Stories") is a manga series written and illustrated by Arina Tanemura. The manga was serialized in Margaret from July to November 2011 for seven chapters. Tanemura modeled the characters as male alter-egos of the idol group, Nakano Fujo Sisters.[2][3]
Nakano Fudanshi Gakuen, a school renowned for its sports program. Within the school, there is a club on the verge of losing its official status, called "Fudanjuku", the club's theme is "anything-goes".
Characters
Edit
Main article: List of Fudanjuku Monogatari characters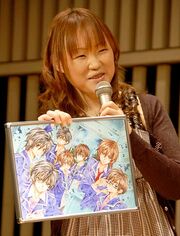 Main article: List of Fudanjuku Monogatari chapters
Margaret announced in their eleventh issue of 2011 that Arina Tanemura would launch her series Fudanjuku Monogatari in their sixteenth issue in July.[4] On June 16, 2011, Tanemura held a press conference with the members of Nakano Fujo Sisters. The group inspired her to write a manga featuring their male alter-egos, after she saw them in concert.[2][5] Fudanjuku Monogatari was Tanemura's first manga published outside of Ribon. It was also her first work as a freelancer.[6]
Tanemura's Fudanjuku Monogatari began in the July 2011 issue of Margaret.[2] It ran for seven chapters, ending in November 2011.[3] Shueisha published the manga in one volume on February 15, 2012.[7]
References
Edit
External links
Edit
Ad blocker interference detected!
Wikia is a free-to-use site that makes money from advertising. We have a modified experience for viewers using ad blockers

Wikia is not accessible if you've made further modifications. Remove the custom ad blocker rule(s) and the page will load as expected.