Notice: Fudanjuku Monogatari has not had an English release yet, as such the title of this page is currently an unofficial translation.
Fudanjuku Monogatari (風男塾物語, Fudanjuku Monogatari) is a manga written and illustrated by Arina Tanemura. The series debuted in the sixteenth issue of Margaret in July 2011,[1] concluding the series at seven chapters the following November.[2] In February 2012, the manga was collected into one volumes and published by Shueisha.[3]
The manga chronicles the lives of the seven members of the Fudanjuku Club. The first chapter features Kojiro Akazono, while the others each focus on a different member. Tanemura modeled the characters after the male alter-egos of the idol group, Nakano Fujo Sisters. [1]
Characters
Edit
Main article: List of Fudanjuku Monogatari characters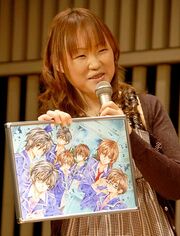 Main article: List of Fudanjuku Monogatari chapters
Margaret announced in their eleventh issue of 2011 that Arina Tanemura would launch her series Fudanjuku Monogatari in their sixteenth issue in July.[4] On June 16, 2011, Tanemura held a press conference with the members of the idol group Nakano Fujo Sisters. The group inspired her to write a manga featuring their male alter-egos, after she saw them in concert.[1][5] Fudanjuku Monogatari was Tanemura's first manga published outside of Ribon and also her first work as a freelancer.[6]
Tanemura's Fudanjuku Monogatari was serialized from July[1] to November 2011 in Margaret, ending at seven chapters.[7] Shueisha published the manga in one volume on February 15, 2012.[8] In September 2012, Tanemura briefly returned to the series with a twelve-page special "Jitsuroku! Fudanjuku Monogatari" (実録!風男塾物語, "Jitsuroku! Fudanjuku Monogatari").[9][10]
Fudanjuku Monogatari was adapted into a four episode "vomic" (comic with voices) that was released online from February to March 2012. The members of Nakano Fujo Sisters voiced their counterparts.[11][12]
References
Edit
External links
Edit