IDOLiSH 7

Game information
Developers
Geechs inc
Publishers
Bandai Namco
Platforms
iOS, Android
Release date
August 20, 2015
Genres
Rating
Media/distribution
[Source]
IDOLiSH 7 (アイドリッシュセブン, Aidorisshu Sebun), abbreviated as i7 (アイナナ, Ainana), is a Japanese mobile app released by Bandai Namco. The game was officially launched on August 20, 2015.[1] Arina Tanemura drew the character designs for the game.[2] Idolish 7 is a multimedia project, which includes music, multiple manga series, a novel,[3] and an upcoming anime series.[4]
The story follows the player's character, Tsumugi Takanashi, the manager of IDOLiSH 7 as she attempts to train seven singers to become top idols.[3]
Characters
Edit
Main article: List of Idolish 7 characters
Notes:
* - Tamaki and Sogo are also a part of the idol duo, MEZZO.
† - Tsumugi is the player's character.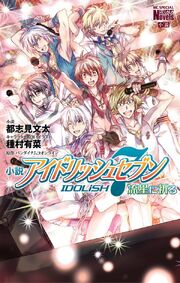 A novel by Bunta Tsushimi titled
Idolish 7: Prayer to the Shooting Star
(アイドリッシュセブン 流星に祈る

IDOLiSH 7 Ryūsei ni Inoru

)
[5]
began serialization on Hakusensha's Novels website in July 2015.
[6]
The book version was published on December 4, 2015
[7]
with cover art by Arina Tanemura.
[8]
Nokoshi Yamada was commissioned to create an Idolish 7 manga based on Arina Tanemura's designs and Bandai Namco's drafts. The manga began serialization on July 24, 2015 on Hakusensha's Hana LaLa Online.[6] As of December 5, 2016, the series has been collected into three volumes and published by Hakusensha.[11]
In February 2016, Tanemura began a spin-off manga, Idolish 7: TRIGGER -before The Radiant Glory- in LaLa DX. It is based on Bunta Tsushimi's novel.[12] The series concluded in June,[13] and was collected into one volume published on August 19, 2016.[14] In October 2016, a second spin-off manga titled Idolish 7: MEZZO - Murasaki Ao no Hekireki by Tanemura debuted in LaLa DX.[5]
Tanemura returned the project in February 2016 by designing the the cover of Idolish 7's single "GOOD NIGHT AWESOME". The Japanese drama,
Nemesis
also used the track of the album as its theme.
[15]
[16]
Idolish 7's "MONSTER GENERATiON" and "NATSU☆Shiyoze!" (NATSU☆しようぜ!, "NATSU☆Shiyoze!"), Mezzo's "Koi no Kakera" (恋のかけら, "Koi no Kakera"), Trigger's "SECRET NIGHT", and Re:vale's "SILVER SKY" have all been released as singles.[17] Idolish 7's first album i7 was released on August 24, 2016.[18]
On August 20, 2016, the first anniversary of Idolish 7, an anime adaptation was announced during a broadcast of NicoNico Live.[19] The project will also include a spin-off series.[20] All the voice actors will reprise their roles from the game.[4]
References
Edit
External links
Edit
Ad blocker interference detected!
Wikia is a free-to-use site that makes money from advertising. We have a modified experience for viewers using ad blockers

Wikia is not accessible if you've made further modifications. Remove the custom ad blocker rule(s) and the page will load as expected.