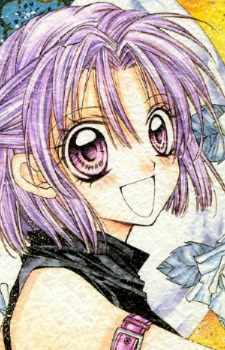 Miyako Toudaiji is the best friend of 
Maron
, but one of the strongest enemies of 
Kaitou Jeanne
. What Maron doesn't know, is that Miyako knows at least at the end of the story, who Jeanne is in realitiy and that she only pretended to chatch her, so she could, if it actually happened free her friend
Character
Edit
Miyako appears to be quite selfish and arrogant. She is always a bit exaggerating, especially when it comes to Chiaki: She's always chlug to him and can get very angry hat Maron or anyone, who distrubes them. She's also not behaving like a good friend: She makes fun of Maron, get's angry at her all the time and sometimes even distroys her plans.
Miako hides as most of Arinas characters her weak side and likes to be strong. When she was younger, Maron was a kind of idol for her, because she was the weak and disliked one.
Biography
Edit
Miyako has lived in the same house as Maron, since they went to kindergarden. In elementry school, they got to know each other more and became friends after Maron, resked Miyako in a dificult situation. This happend again in grammar school and Miyako got the feeling, that she should give Maron something in return. When she found out the turth about Maron and Kaitou Jeanne, she decided to protect her best friend and keep her safe from the police.
Miyako's dad is a detective, who wants to catch Jeanne, she is with him, everytime the art thief is going to appear again. Miyako never gives up, to win Chiaki's heart, but of course she sees, that he's only interested in Maron. But Miyako comes near to another boy: Minazuki Yamato, who wants to get near to Maron and tries to catch Sinbad for her, while Miyako wants to impress Chiaki by catching Jeanne (That was before she knew the truth about Jeanne and Maron).
They both spent more time with each other. On a class trip, Miyako gets possesed by a demon and can winn Chiaki for herself, but the demon gets defeated by Maron/Jeanne. After this Maron and Miyako have a conversation, were Miyako says that she's going to give Chiaki up and that she wants Maron to show her feelings to Chiaki, cause she know what her best friend feels for him. When Maron runs away to go to Chiaki, Minazuki turns up and is nearly crying, because of the conversation he just heard. He's really impressed by Miyako's behavior and tells her, that he has got strong feelings for her. She's confused a litlle first, but than she tells him, that she feels the same way and they kiss.
Miyako and Minazuki get married at the end of the book. Her son 
Shinji
 is 
Access Time
, who was reborn, but they don't know and live a happy familiy life.
Ad blocker interference detected!
Wikia is a free-to-use site that makes money from advertising. We have a modified experience for viewers using ad blockers

Wikia is not accessible if you've made further modifications. Remove the custom ad blocker rule(s) and the page will load as expected.