Time Stranger Kyoko (時空異邦人KYOKO, Taimu Sutorenjā Kyōko) is a manga series written and illustrated by Arina Tanemura. It was serialized in the manga magazine Ribon from September 2000 to 2001. Shueisha collected the series into three volumes. The manga was licensed by Viz Media for North America.
Kyoko Suomi, princess of Earth Nation, sets out on a quest to wake her sister, Ui. In order to wake her, Kyoko finds the eleven other "Strangers".
The story follows the Princess Kyoko in the future, a princess who never wanted to be one. She keeps it as a secret from her school mates and teachers, and still has her bodyguards always around her. The only chance for her not to stay in the position is, to wake up her sister, Princess Ui, who has been in a deep sleep, since they both were born.
Characters
Edit
Main article: List of Time Stranger Kyoko characters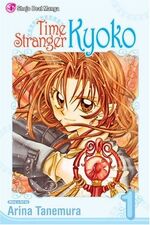 Main article: List of Time Stranger Kyoko chapters
Arina Tanemura began Time Stranger Kyoko in the September 2000 issue of Ribon. The series was concluded after thirteen chapters in September 2001. It was collected into three volumes and published by Shueisha. Time Stranger Kyoko was also Tanemura's third series for Ribon. Viz Media published the manga in North America.
Main article: Time Stranger Kyoko: Leave It to Chocola!
In 2001, a short OVA based on the bonus story, "Leave It to Chocola" premiered at Shueisha's Ribon Festival. It was produced by Production I.G and directed by Masatsugu Arakawa.
Ad blocker interference detected!
Wikia is a free-to-use site that makes money from advertising. We have a modified experience for viewers using ad blockers

Wikia is not accessible if you've made further modifications. Remove the custom ad blocker rule(s) and the page will load as expected.